Magnolia Michelia Alba 110 Litre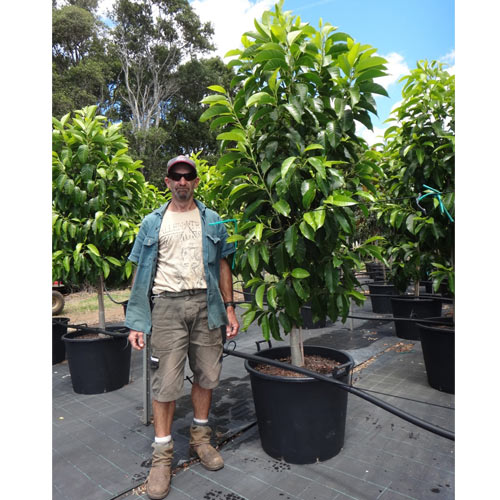 Native to the Himalayas, Magnolia Michelia Alba is an exotic addition to any garden with abundant and fragrant delicate white flowers.
Description
Ready January 2022
Magnolia Michelia Alba is a highly attractive, sensuous and tactile evergreen magnolia tree with a vivid combination of bright green tropical leaves and beautiful white flowers that fill the air with their highly perfumed aroma. In Asia, the flowers are picked and placed in bowls of water to scent their houses and temples. Magnolia Michelia Alba in full bloom is truly something to behold.
Colours & Flowers:
Magnolia Michelia Alba provides year-round texture, interest and beautiful white flowers through the spring and autumn months. The flowers are awe-inspiring with their delicate orchid-like shape, while their large voluptuous leaves provide glossy green foliage (unlike other magnolia varieties that have a velvety brown underside to their glossy green leaves.)
Growing:
Magnolia Michelia Alba thrives in full sun or slightly dappled sunlight, but can be damaged by heavy frost and gusty winds. The soil needs to be well-drained, slightly acidic and a good quality fertiliser applied early each spring to encourage bountiful flower blooms.
Best Displayed:
Create an appealing vista by planting Magnolia Michelia Alba directly in the garden or in large pots or planters positioned on decks, patios and paving. With their Asian heritage, Magnolia Michelia Alba looks equally at home in both formal gardens and jungle-like tropical gardens.
At A Glance:
| | |
| --- | --- |
| Avg. Height: | 10m* |
| Avg. Width: | 8m* |
| Flowers: | Summer - highly fragrant |
| Soil Conditions: | Well drained |
| Annual Care: | Spring and Autumn feed with a quality slow release fertiliser |
| Other: | Prune to shape and discretion after winter |
* Planted in an open position
Need answers?

We're here to help. Call us on 0429 823 201 to talk to one of our friendly staff.
Shipping Details
PLEASE NOTE: Due to the complexity of shipping live plants, we can only calculate the shipping costs online to Brisbane and Sydney Metro areas. If your order is outside of these locations, please click here with the full product name, number of plants required and your full street address and we can email you a quote. Alternatively please contact us on 0429 823 201 to organise your order.